Our Capacities
Our state of the art SMT lines, thru-hole soldering equipment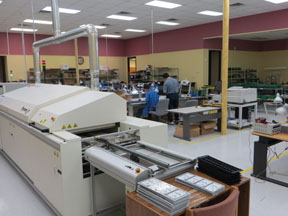 , PCB, cable, and wire assembly capacities, and, most important, our talented and skilled employees, will ensure the product quality and quickturn for your circuit board assembly needs; we can handle projects from basic thru-hole to very fine pitch SMT production.
Prototype and small jobs are welcome. We understand the urgency and importance for you to get products into the market, so we are committed for prompt delivery. In these cases, we can turnaround a prototype as quickly as in less than 24 hours.
Regardless of production size, quality is what we focus the most. For each project, we will have at least three check posts, i.e., QC1, QC2, and final inspection. Wherever is possible, on the other hand, we try to minimize human errors by keep updating the manufacturing technology and equipment. You may learn more about how we assure quality by checking the "Quality Control" page.
General
Quick turn PCB assembly
Same day quotes
Single and double sided SMT
High density
Large parts on both sides, including BGA on both sides
Mixed technology
Automated placement of SMT parts
Fly probe testing
Short strip capability, do not require parts on reels
Consignment and Turnkey projects
Capable of assembling to IPC-A-610 Class II and III acceptability criteria
SMT automated machine placement
All common components
Chips down to 0201 (high speed) and 01005
BGA and Micro BGA down to 0.012 in. (0.3mm) pitch, ball count greater than 1000
Leaded parts to 0.012 in. (0.3 mm) pitch
Soldered heat slug containing parts (MO-220, QFN….)
Ceramic LCC
Parts as large as 3 in. x 3 in. x 0.6 in.
Surface mount connectors
Odd form parts
LEDs
Resistor and capacitor networks
Electrolytic capacitors
Variable resistors and capacitors (pots)
PCB
Sourcing for circuit boards is optional depending on customer's preference and requirements, including:
customer provided PCB and components
customer specified sources or vendor requirements
our other fabrication sources
our production capacity is not limited by circuit board and component requirements
Thru hole
All sizes and lead configurations on both sides of PCB assembly
Wave soldering and Selective soldering
Solder Chemistries
Semi-automatic paste application
No-clean and Automated water wash flux cleaning is available
Cable harness
Cable harness and wiring may be an area not so impressive by comparing to automatic pick and place, but nonetheless an important step in any electronic design. We have the full capacity in stocking, measuring, cutting, stripping, crimping, and wiring of hundreds types of electronic cables and wires as well as enclosures assembling.